Connect your application with our SMS API
Join over 100,000 happy developers who have discovered how easy it is to integrate our SMS API with their website, app, software or CRM application. Simply send a mobile number and message to our gateway and the SMS text will be delivered in seconds.
We support all languages (including PHP, .NET, C#, Java, Python, Ruby) – you simply open a webpage on a URL to get started.
Free API to send through our SMS gateway
Our Platinum Partner Operator status guarantees the highest quality text service at up to 8,000 messages a second. What's more, our SMS API can personalise messages, receive delivery receipts, schedule messages and pull results from mobile forms and surveys into your app. Our SMS gateway can also handle tickets, enabling you to send individual vouchers or tickets. Try sending a message using our API today.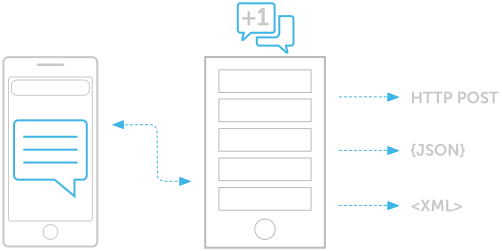 Receive text messages online
Our receive SMS online API allows you to receive text messages from an inbox with our inbound SMS API. Using your API key, you can get the latest messages from one or more inboxes. Messages can either be returned as either JSON or XML for easy inclusion in your own app, CRM or system. Test our inbound SMS API and register for a API key today.
Fully supported SMS gateway
Cut and paste our SMS API code and your API key to start sending and receiving text messages in minutes. Our API gateway is fully supported with detailed documentation and full developer SMS code examples. See how you can integrate into our SMS API gateway and read all of our supporting documents here.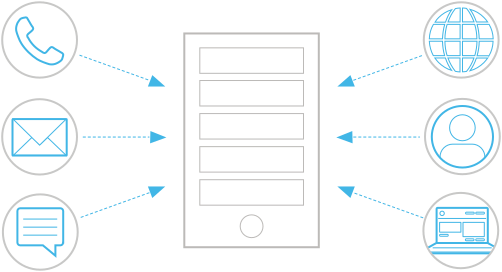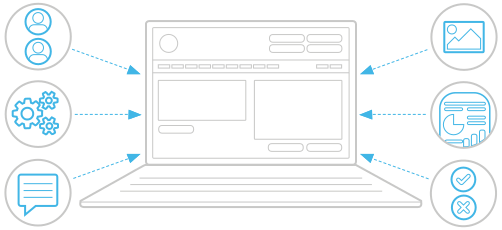 Manage your account using our clever API features
Using our SMS API, you can do much more than just send and receive text messages. You can manage contacts, create or delete contact groups, create respond forward SMS rules, form a short URL, retrieve SMS or MMS balances, and retrieve message reports. Vibe Active's SMS API is the most versatile and flexible API gateways on the planet. Sign up for a API key and try our gateway in minutes.
Easily integrate with our API
Refer to the code below to see how easily you can integrate our SMS API with your own software,
CRM application or website in a language you already use.