Send SMS direct from Excel
Send bulk text messages from within Excel without logging into our award winning online SMS platform. Simply select the information you want to include in your message, as well as your recipients' phone numbers from your Excel columns, and Excel to SMS will automatically create and send personalised messages.
The SMS Excel add in allows you to:
Write your messages from within Excel
Merge information from cells in your spreadsheet
Calculate the cost to send your messages, before you send
Send messages, without needed to reformat your spreadsheet
There is no need to login to our platform to send the messages you create in Excel. The plug in makes use of our SMS API. Every Vibe Active SMS account has a unique API key. Get your API key today and start sending SMS from Excel.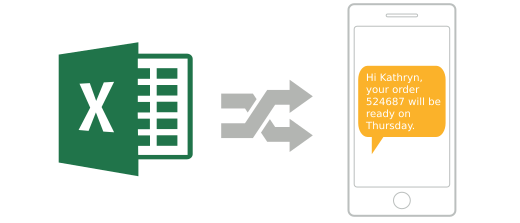 Download Excel to SMS plugin
To use the Excel plugin, you need to download it from Microsoft and install it on your PC. You need a Microsoft account to do this. There is no charge for accessing the plugin. Once you've set up an account, get started sending SMS from Excel with our knowledge base article.